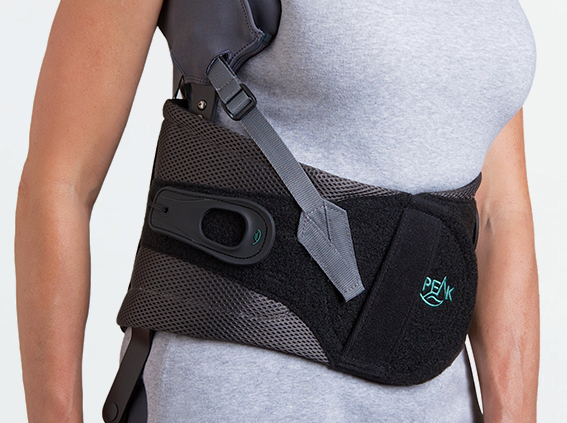 The research paper "Bracing adults with chronic low back pain secondary to severe scoliosis: six months results of a prospective pilot study", has just been published by the European Spine Journal.
It is one of the few articles published in the literature on the use of braces for adults affected by scoliosis. Although scoliosis has been estimated to affect up to 68% of the population over 60, there is scant literature about conservative treatment for adult scoliosis.
While during growth, the main concern is aesthetic, with a quite good quality of life and pain is quite unusual, backache characterizes adult scoliotic patients.
"For our research, we took into account twenty adults with chronic low back pain (cLBP) secondary to Idiopathic Scoliosis (IS) – explains dr Fabio Zaina, a specialized physiatrist of Isico and the author of the publication – Patients were evaluated at baseline immediately before starting with the brace and after six months. We have used a new brace, called "Peak", designed to alleviate pain for adult patients with chronic pain secondary to scoliosis."
The objective of the study was to test the efficacy of a prefabricated brace in reducing pain in adult scoliosis patients because the quality of life and pain are the main reason for seeking treatment.
Patients, especially women with severe scoliosis, wore the brace for a few hours, from 2 to 4, a day: "This study has some shortcomings: including a limited number of females only patients, as well as not having a control group. It would have been interesting to compare this group with those who refused to wear the brace or to another similar group that only did exercises – ends dr Zaina – from the data collected, we found an initial impact on pain reduction, none instead on the quality of life according to the questionnaires filled in by patients. Considering that the extension of follow-up produced improved results, our recommendation could be to pursue the part-time brace-wearing permanently. Starting with such a short period of brace wear (2–4 h per day) would also allow the expert clinicians to increase the dosage in case of need".
https://en.isico.it/wp-content/uploads/2021/04/ASPEN.peak_.scoli-CHANGED.jpg
567
567
Utenza Editor
http://en2019.isico.it/wp-content/uploads/2019/11/logo-300x91.png
Utenza Editor
2021-04-13 18:35:45
2021-04-20 11:55:54
Bracing adults with scoliosis: a new published study