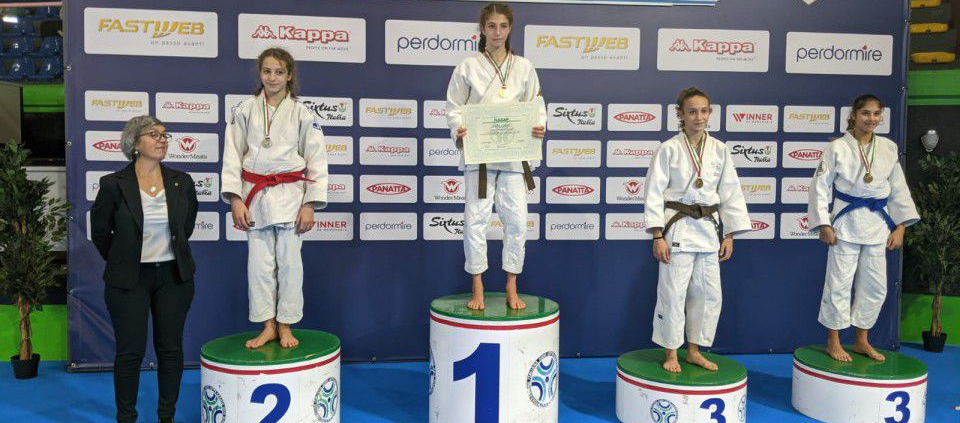 My name is Giulia. I live in Genoa, and I am in my third year of Middle School. I am just like many other girls: I have my friends, I love the sea in summer, and I have my hobbies and interests, the main one being judo. 
In January 2020, I was diagnosed with idiopathic scoliosis. My parents requested several consultations before we ended up at ISICO.
It was a challenging and upsetting process for me and my parents, who struggled to know the best course of action to take.
To begin with, my treatment was just daily exercises: every month, I had a session with my physiotherapist, Martina, and every four months, a medical check-up with Dr Fabio Zaina, a physiatrist at ISICO.
It was quite a tough period because I had to do my exercises every day, regardless of homework, daily judo training, and holidays. When each check-up came around, I would get really anxious about what my curve would measure.
In April this year, it was found to have gotten worse, and Dr Zaina prescribed a brace. At first, I didn't take it very well, as I started thinking about everything this would stop me from doing. I was thinking about my sport, my summer, going to the sea, and so on. My family were alarmed, too, but we soon calmed down thanks to Martina's support.
It only seems like yesterday when Mum and I went to the orthopaedic office to collect my brace. I remember the tests and adjustments needed to make it feel as comfortable as possible. During the first "test run", I really felt I couldn't breathe and struggled to do even the most basic movements. Then, gradually, something seemed to change. Together with Mum, I started doing increasingly complex movements, like sitting down and getting up from benches in the play park close to where we live, walking faster and faster until I was doing short runs. By the end of that morning, it felt like my brace and I were getting to know each other: I was starting to adapt. The first night I managed to sleep quite well, and my new life began the following day. Luckily, my prescription was for 18 hours per day, so I could plan my days, concentrating all my sporting activities during my brace-off hours. 
In those early months, I started to measure this new situation, trying to set myself goals and then working to achieve them. I wanted to know how many things I could still do from my previous life with a brace on. 
So, I made a list and started to tick them off: walk to school with a backpack on; ride a bicycle; do a handstand (this one was pretty difficult); do a head-over-heels (I managed this after lots of tries). When the summer came, and I swapped sweatshirts for lighter clothes, I found myself having to try out new solutions and change my look a bit, opting for slightly looser T-shirts, but the brace wasn't that obvious under them. And then, it was the school holidays.
Since I spend most of my summer on the beach, I had to rethink my brace-wearing schedule to fit some sun and sea into my brace-off hours and my training, which gets more intensive in the summer. To stick to the six hours allowed, I worked out a method that actually worked well: I decided that my brace-off hours would end exactly when my training sessions did and calculated them on that basis, counting back six hours to know exactly when they should start. At the allotted time, I would take off my brace and put on a costume to enjoy the sun and the waves. On the hottest days, though, even that solution seemed impossible, and after talking to Martina, I started removing the sensor from my brace so that I could also go in the sea with it on. Gradually, everything fell into place, and my everyday life became "easy" again, basically because I could still do pretty much everything I used to do. 
After a year's break due to the pandemic, judo competitions started again. July brought the Italian Championships, my first ever. After taking part in, and winning, the regional qualifications, I went to Ostia for the national championships. I got through three matches and then won the final, which I was amazed about because I really hadn't expected to. I automatically qualified for the next Italian Championships in November, thanks to that result.
The summer raced by, as there was so much going on – beach time, training, family holidays. Everything was just like normal!
In September, after returning to school, I started training for the new Italian Championships in November. I was to compete in the beginners' B -40KG category: I was determined to defend the title I had won in the summer. So, I worked out a new daily plan, including school, gym sessions and free time, and threw myself headlong into this new challenge. 
On 14 November, I went back to Ostia, in some ways more excited than the first time but also more aware of the challenge I faced. Once again, I had four matches, and I retained my title as Italian champion in my category! I was even more thrilled than the first time because more athletes were competing on this occasion and, technically, the standard was higher. That was the day I realised that if you really want something and fight for it, nothing can stop you, even a problem like ours. We are just the same as everyone else!
When I first learned that I had to start wearing a brace, I read some of the stories of others like me fighting scoliosis. They said that your brace, in the end, becomes a kind of travelling companion, a friend who is always there for you throughout the day.  I didn't really believe that, and I thought they were just words meant to encourage others like me.
But, you know, it really is true, and even though I would have preferred not to have to go through all this, it hasn't stopped me from reaching the highest step on the podium and being happy!
https://en.isico.it/wp-content/uploads/2022/02/IMG-20211114-WA0036_960_540_80.jpg
540
960
Utenza Editor
http://en2019.isico.it/wp-content/uploads/2019/11/logo-300x91.png
Utenza Editor
2022-02-11 15:25:45
2022-02-21 12:00:50
A judo champion in brace