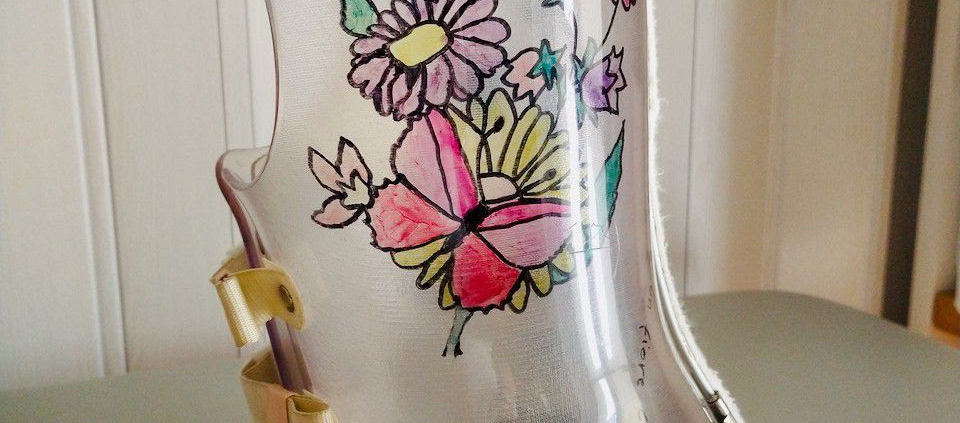 The brace accompanied Valentina for five long years: due to a scoliotic curve that in the worst period exceeded 60°; a scoliosis form challenging to be contained but faced with great determination thanks also to the support of a wonderful family. From the parents to her sister, Sofia, who wanted to somehow tell about Valentina's courage, a few months ago participated in a school project that asked for a drawing on cyberbullying.
"We started from reading a story – Sofia writes – the protagonist Camilla wore a corset and suffered from her condition. I understood that I could best represent what Camilla was feeling because my sister Valentina had worn the brace for almost five years. Of course, Valentina was lucky and has never been bullied, indeed, her friends and companions have always been close to her, but I knew that I could best represent the rebirth one feels in overcoming this difficult path. I then asked my sister if I could take one of her old corsets to draw on it. On the one hand, I decided to draw a group of dark-coloured butterflies to represent the sadness and loneliness you feel when you are bullied, while on the other I have drawn colourful flowers and butterflies to describe the sense of rebirth you feel when overcoming a bad situation, like that of being bullied.
Wearing a corset is not something to be ashamed of or to be made fun of, on the contrary, it helped my sister to grow up and overcome the most difficult moments with courage and strength ".
https://en.isico.it/wp-content/uploads/2022/06/unnamed-19.jpg
540
960
Utenza Editor
http://en2019.isico.it/wp-content/uploads/2019/11/logo-300x91.png
Utenza Editor
2022-06-20 14:28:02
2022-06-21 17:22:32
Brace: a drawing on cyberbullying