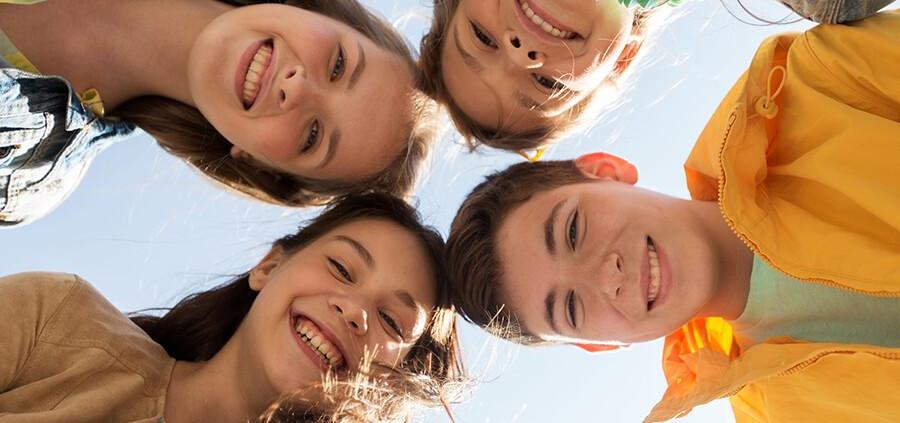 Adolescence and bracing are two challenges that can be difficult to face simultaneously.
In our view, this is perfectly natural and understandable.
Adolescence is usually perceived as a difficult phase during which young people are still immature, tend to be irrational, and struggle to control their emotions. However, research studies focusing on the development of the adolescent brain have recently debunked these myths, allowing adolescence to be understood, from a more modern perspective, as a life stage characterised by numerous possibilities, great creativity, and a desire to experiment.
However, it is also a time of great changes, when youngsters are particularly vulnerable. Their increasing need for freedom and independence sees them looking outside their immediate family; accordingly, friends assume a more and more central role, becoming the basis and starting point for building their self-awareness and personal identity.
At this age, then, finding yourself faced with the prospect of wearing a rigid brace for up to 23/24 hours a day certainly isn't easy.
A young person who has just been prescribed a brace can experience many different emotions, which vary from individual to individual: some will feel angry, others sad; some may be fearful or feel ashamed.
Shame is an emotion that stems from the fear that others will judge us. What are my friends going to say when they see me in a brace? What will they think if they find out I have scoliosis?
In adolescence, precisely because this is a time when we are still working out who we are, we can be particularly sensitive to the opinions of others; we want to fit in, and we fear rejection.
For these reasons, having to wear a brace can be seen as an obstacle to the formation of friendships and early romantic attachments. It becomes a secret to be kept strictly within the family. Some youngsters try to keep their brace hidden under their clothes and avoid physical contact with others, to the point of avoiding those activities in which their brace would have to be exposed, and thus depriving themselves of a whole series of experiences.
In this way, they become victims of their own secret.
Hiding a brace requires a lot of effort. Is it really the best thing to do?
Even though hiding is a natural and automatic response when we feel ashamed, it is also the most harmful. Instead, the least natural and least automatic (i.e. "telling the truth" and showing yourself) is the most beneficial! When you find out that you have to wear a brace, the best thing to do is to tell your friends and classmates about it immediately. Although this might seem difficult, it is far easier than trying to keep the fact a secret. Start by telling your closest friends, and then gradually share the news with everyone else.
You really have nothing at all to be ashamed of. Quite the opposite: you should be proud of what you are doing in order to have a healthy back!
Authors: Irene Ferrario, psychologist and Antonella Napolitano, physiotherapist
https://en.isico.it/wp-content/uploads/2020/07/jcr-content.jpg
600
900
Utenza Editor
http://en2019.isico.it/wp-content/uploads/2019/11/logo-300x91.png
Utenza Editor
2020-07-13 18:43:23
2020-07-13 18:48:31
Friends and brace