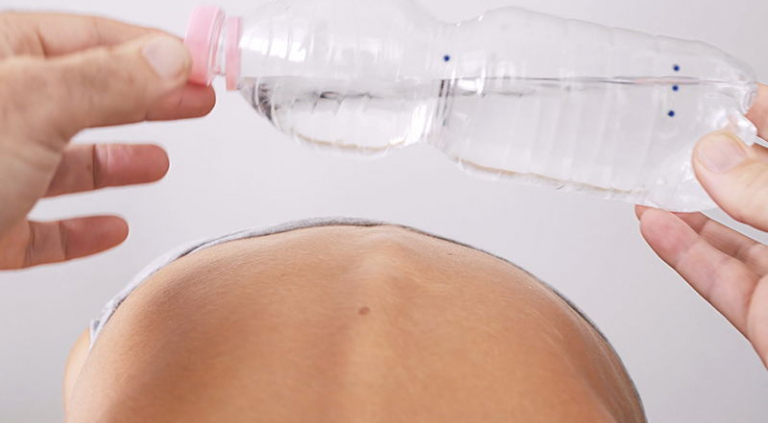 "One of the reasons that make scoliosis a disease that scares so much the parents, is its specific characteristic of being difficult to detect on its onset – explains Michele Romano, director of physiotherapists in Isico – A scoliometer is a professional medical instrument used by specialists such as doctors and physiotherapists to detect the pathology. In the absence of this instrument, is there a simple test for scoliosis that we can do in our own homes? Yes, the Torsion Bottle. Our paper aimed to check the possible usefulness of a simple tool (the Torsion Bottle) developed to offer an instrument for home-use by parents but also for screening purposes in low-income countries".
The study was divided into two parts. The main purpose was to compare the measurements collected with the torsion bottle and the same measurements collected with the scoliometer in a population of patients accessing our clinic for the rehabilitation treatment following Isico standard evaluation protocols.
The secondary aim was to verify the reliability of blinded inter-operator assessments, performed with the torsion bottle on the same patients by two physiotherapists. These double-blinded measurements were taken periodically for a short-time-interval in our clinic to verify measurement accuracy in the everyday clinical activities.
The conclusion? The torsion bottle is useful to perform a pre-investigation of the presence of a prominence, permitting a simplified assessment of its value, thus referring to a specialist for a medical assessment.
We remind you that you can perform a quick and simple assessment/check for scoliosis or curved back on the website screening.isico.it,where you are simply asked to take some measurements with easily procurable tools like a ruler and others again to be detected with the help of a simple bottle of water, the Torsion Bottle. 
https://en.isico.it/wp-content/uploads/2020/11/torsion7-768x432-1.jpg
432
768
Utenza Editor
http://en2019.isico.it/wp-content/uploads/2019/11/logo-300x91.png
Utenza Editor
2020-11-11 12:25:33
2020-11-17 15:39:32
Message in a bottle: an Isico research