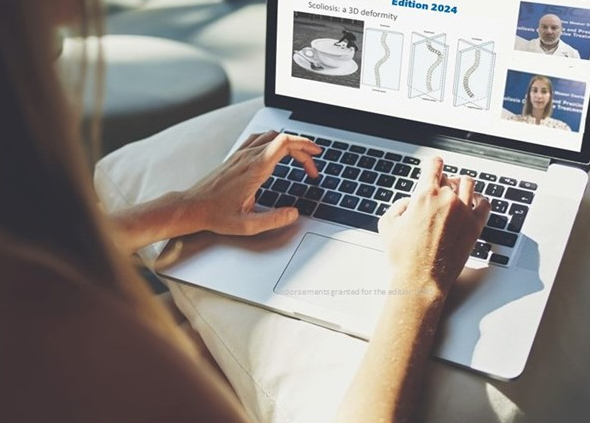 First, some numbers confirm the idea of an international training event, which has now become part of Isico's traditional educational offer, together with the Italian Master, the SEAS courses, and the course on the Sforzesco brace construction.
In 11 editions, there were 315 participants from 56 different countries, including 22 European countries, 17 Asian countries, 6 from the Americas, 4 from Africa, and 2 from Oceania. In other words, our World Master Course, which began in 2016, includes the whole world interested in the rehabilitation treatment of spinal pathologies.
Participants have the privilege of attending the lessons of dozens of teachers among the leading international experts in rehabilitation treatment: "Improving my knowledge and skills about scoliosis, there was a lot of academic information presented in a systematic way. It made me read more, learn more, and learn about a different approach from other countries. It opened my mind to seeing scoliosis from a broader and more accurate perspective, which encourages me daily to learn more". This is the comment of one of the participants in a past edition, Mohammed Firas Wahbeh, from Syria.
Therefore, this is a learning opportunity that continues to be successful; in fact, we are close to opening registration for the IX Edition of the Online Master Course "Principles and Practice of Scoliosis Conservative Treatment – PPSCT", which will start in January 2024.

How is the course organised?
The PPSCT course is delivered entirely online and self-administered through a dedicated online learning platform. It is divided into 16 modules, each lasting two or three weeks.
Every single module generally includes three recorded theoretical lectures (each about 45 minutes long), which participants can listen to at a time to suit themselves, enriched by scientific papers as in-depth material to complete the module task.
Discussion-group sessions complement the learning and the exchange with other students, focusing on specific aspects of the topic touched on within that specific module.
World Master: participants' experiences
One of the most extraordinary aspects of these eight editions of our international online master course was to meet up and exchange views with students from all over the world who also told us how scoliosis is treated in their countries, what they expected from this training path, and what made the experience of this course unique.
We have mixed a short video of students' feedback because no one better than those who have attended the course can tell others about it, together with a short presentation of the course given by Prof. Stefano Negrini, scientific director of our institute.
https://en.isico.it/wp-content/uploads/2023/09/PPSCT204-Registration-opening-soon.jpg
639
590
Utenza Editor
http://en2019.isico.it/wp-content/uploads/2019/11/logo-300x91.png
Utenza Editor
2023-09-20 12:43:20
2023-09-20 13:04:28
World Master: ready for the 2024 edition