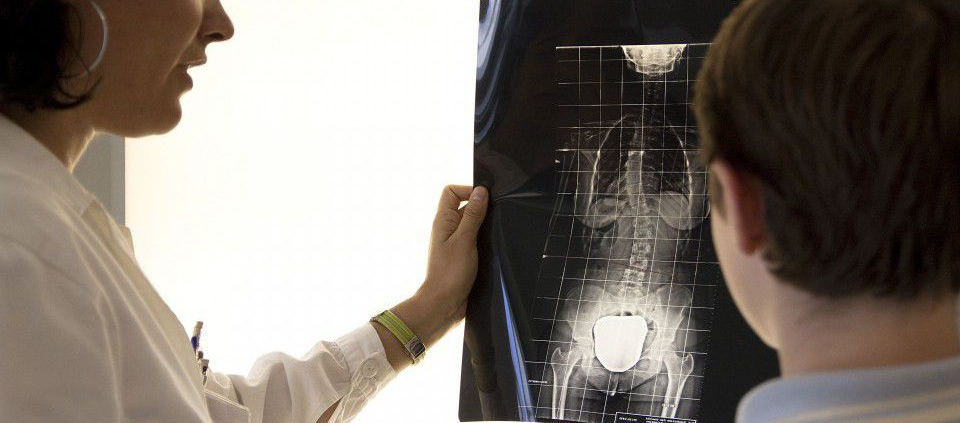 During bracing for scoliosis, doctors want to see X-rays every 6-12 months in order to check how well the treatment is working and also verify the patient's growth stage in order, over time, to adapt the prescription accordingly.
This obviously begs the question: "How long before having an X-ray should I remove my brace?"
Let's see what the scientific literature has to say.
According to one study, it takes around 2 hours to reach the maximum correction that can be obtained using a brace; after removing, it the correction obtained is gradually lost over around 2 hours, after which the curve/spine stabilizes (https://pubmed.ncbi.nlm.nih.gov/24859575/). 
Another study suggested that subjects who leave their brace off for longer than they would normally do are more prone to this loss of correction (https://pubmed.ncbi.nlm.nih.gov/18810041). 
Because the patients in these studies were not assessed on the basis of repeat X-rays — it would not be ethical to expose patients to so much radiation —, but rather using other (less reliable) examinations, and the patient samples investigated were small, these data are only able to show a trend, which will need to be confirmed by more robust studies.
So, what happens when you remove your brace? Does the spine remain corrected? And, if it does, for how long? In other words, when you need to have an X-ray, how long beforehand should you remove your brace?
Given the absence of reliable data to rely on, what we find, if we look at what happens worldwide, is that there exists no universally accepted criterion to guide this choice. This means that doctors can decide according to their own beliefs. Accordingly, some doctors ask their patients to remove their brace up to 2 days before having an X-ray, in order to get, even in those who normally wear it full time, a picture that can be considered to reflect the "real" situation, independent of the effect of the brace. Some instead want their patients to be X-rayed immediately after removing it, while others do not give precise instructions.
In our view, it is important to ensure consistency between X-rays taken in the course of bracing treatment, so that they can be compared and the effects properly understood. For this reason, whatever the doctor decides, it is a good idea to apply the same criterion for all X-rays performed during the treatment.
The approach of our doctors at ISICO is to ask patients to do X-rays after they have been out of their brace for the same number of hours they leave it off in real life. So, if a patient is prescribed 20 hours of brace wearing per day and 4 hours of brace-off time, then they will have their X-ray 4 hours after removing their brace.
Why this choice? Because the ISICO doctor wants an X-ray that shows the "worst" scenario, so as to be able to establish how well the spine is holding up during the hours of freedom and, on this basis, whether the brace-off period needs to be shortened.
There are two ways you can achieve optimal maintenance of the correction and, therefore, good results on follow-up X-rays. The first is to adhere scrupulously to the doctor's prescription every day, rather than some days keeping the brace on for more hours than prescribed, and others for fewer; this constancy allows gradual and targeted strengthening of the muscles that support the spine. The second is to do specific physical exercises designed to increase your ability to practice self-correction of the spine during your everyday activities.
If you can do this, you will end up with a kind of natural muscular brace that can be activated as necessary during your brace-off hours. This ability to support the spine can be further enhanced by regular sporting activity.
In short, while there is no clear answer to the question asked at the start, we have here offered some considerations to help you to interpret your specialist's requests, and also some tips on how to get good results from your treatment.
https://en.isico.it/wp-content/uploads/2020/03/MG_8196_960_540_80-2.jpg
540
960
Utenza Editor
http://en2019.isico.it/wp-content/uploads/2019/11/logo-300x91.png
Utenza Editor
2022-09-12 19:40:55
2022-09-12 19:40:57
How long before having an X-ray should I remove my brace?