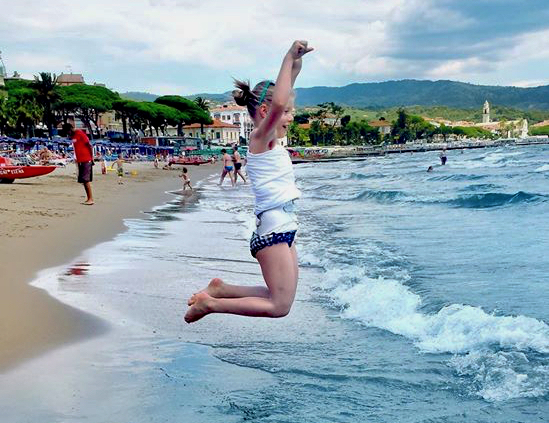 Summer is here at last and it is finally time to go on your long-awaited summer holidays. The problem is, you have to take a particularly annoying friend with you – your back brace, which is particularly difficult to put up with at this time of year. Yes, spending summer in a brace is another challenge you are about to face, and one that perhaps had not occurred to you until now.
Prospecting to spend your summer in a brace, you are probably starting to think that this piece of plastic can turn, what should be a fun-filled time, into a nightmare!
So, what can you do about it?
First of all, it is important to understand that this is a challenge that you need to tackle head on, with the vital support of your family, but also drawing on your own resources. In the end, everyone finds themselves having to rise to challenges of some kind in their teenage years. Whatever these consist of, extreme sports or expeditions in the great outdoors, letting someone know how you feel about them, or working out how to respond to a first declaration of love, you, as adolescents, are probably already realising that now is the time to show just what you are made of!
The best thing is to draw on all your reserves of determination and self-discipline. It is also important to listen to good advice. For example, make sure you make the most of your brace-off time each day, and if you are a full-time brace wearer, why not consider spending your holidays somewhere cooler, such as up in the mountains?
How can I stick to my prescribed brace-wearing time and still enjoy my holidays?
Unfortunately, when your scoliosis is still "evolving" and liable to worsen spontaneously, deciding to reduce your brace-on time is very risky. Stopping scoliosis from progressing is already very difficult, and if it does worsen it is very difficult to reverse the trend and "correct" the damage.
We understand that the summer is a particularly difficult time if you wear a brace, and that you have to make many sacrifices. However, if you don't take your treatment seriously, you could end up in the same position as many adults who have your same problem: they avoid going to the swimming pool or seaside because they feel embarrassed being seen in a swimming costume, and in their case, it's too late to do anything about it.
So, try to stay determined in your battle against scoliosis, also in the summertime, because in the end, the results will make all your efforts worth it.
How can I best manage my brace-wearing time?
The main thing is to make the most of the hours when you can leave your brace off, and it might also be worth choosing to spend your holidays somewhere cooler, such as up in the mountains, especially if you have to wear your brace round the clock. If you are travelling by plane, we recommend that you take your medical prescription with you, translated into other languages as necessary.
In hot weather, there are some simple things you can do to prevent minor problems and discomfort: wash frequently and change your t-shirt often (do this quickly so as not to be out of your brace for too long). You may also want to apply thin panty liners to the brace where it fits under the armpits; these can be changed frequently, especially in the summer, when you sweat more.
In most cases, it is fine to keep your brace on when you go in the sea or in the swimming pool. In other words, these activities don't have to be concentrated in your hours of "freedom": you can simply bathe in your brace. Before you do, though, just bear in mind the following rules, take care, and remember that unfortunately not all braces allow you to do this.
Six rules for bathing if you wear a brace:
If you wear a Thermobrace device, this must be removed before you enter the water. Do not leave it in the sun, and put it back in place when you have finished bathing.
If you have been in the sea, you will need to rinse the brace well in freshwater to get rid of the saltiness.
Dry the brace thoroughly.
Do not use hot air from a hairdryer to dry the brace pads and do not expose your brace to the summer sun, because the sun can overheat the metal parts and, as well as making them hot, will cause them to dilate. Basically, as the brace heats up, the holes where the hinges are attached to the plastic shells will expand and become deformed. The danger is that this can ruin the brace, because as the brace subsequently cools down, the metal part will return to its original size while the plastic will remain permanently enlarged and deformed.
If the brace pads are covered in Alcantara®, let them dry out thoroughly, as this material is easily spoiled.
As an extra precaution, you could use a stretchy seamless fabric tube to "line" your brace before going in the water (SOFT-TUBE or a similar product).
WARNING!
You cannot bathe or swim with your brace on if the strip protecting your abdomen is made from leather (another material that will be spoiled if it is allowed to get wet: you must first replace it with a plastic one (talk to your orthopaedic technician about this);
If you are trying out your brace, or just about to do so, contact the orthopaedic laboratory for more information, and to find out about the procedures to follow for your type of brace;
It is important to follow the above precautions carefully: a brace is a medical device and you should not let it get damaged through negligence.
Do not go in water where you are out of your depth, even if you can swim!

Don't forget you can find lots more information and instructions in our handbook "Do you wear a brace? Here is Isico's advice":
you can download it from the Isico website.
https://en.isico.it/wp-content/uploads/2020/07/2016_13-2.jpeg
496
549
Utenza Editor
http://en2019.isico.it/wp-content/uploads/2019/11/logo-300x91.png
Utenza Editor
2020-07-13 18:16:26
2020-07-27 11:05:35
Summer in a brace