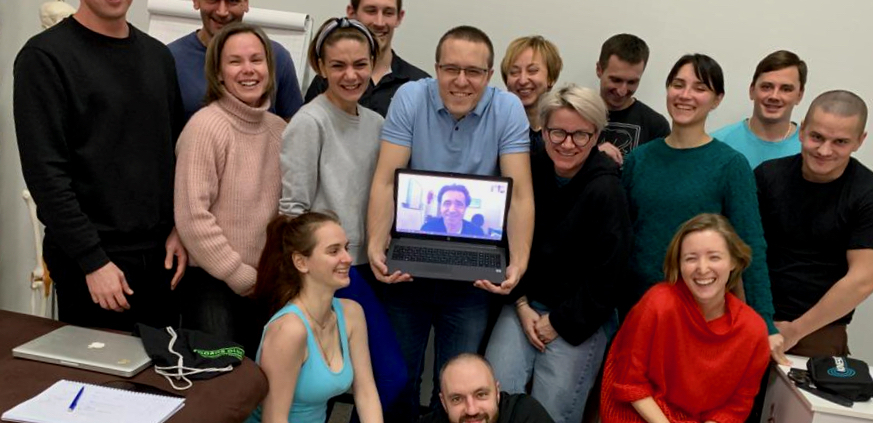 Due to the Coronavirus emergency and the consequent restrictive measures, our SEAS courses, foreseen in different countries of the world in the next period, cannot be done: we are ready to reschedule them as soon as possible.
In some cases, however, SEAS has been able to evolve in online mode in order not to stop completely.
After the four-handed course in Moscow when Michele Romano, director of physical therapy in Isico, was connected online from Milan, we were invited to hold a theoretical Webinar in Turkey, a few days ago, on April 22nd.
In both cases it was a success beyond expectations, considering that the Webinar had 600 participants. During the Webinar, Dr Michele Romano explained what SEAS is, the scientific evidence of this type of approach to the treatment of idiopathic scoliosis and how it will evolve after the epidemic.
About Seas Course in Moscow, the lessons were given by our director of physiotherapy, Michele Romano, who linked up with 21 participants in Moscow, together with the course organiser Dr Dimitri Gorkovsky, who is a sports physician and specialist in physical and rehabilitation medicine.
"As the current situation prevented me from going to Moscow in person, as originally planned, we took a last-minute decision to switch from a residential to an online course" Romano explained. "A fundamentally important role in the success of this event was played by Dr Gorkovsky, who, since 2016, has worked with us on the staging of eight previous courses in various Russian cities: Moscow, St. Petersburg and Novosibirsk."
On all these previous occasions, Dr Gorkovsky flanked Romano, translating from English into Russian.
"Those past experiences certainly helped me this time, as I am now familiar with the topic" he said. "Michele gave practical demonstrations using a dummy, which we watched via Skype, and I then replicated these exercises with volunteers from among the participants. Instead, Michele was able to answer the participants' questions and clarify their doubts directly, as though he were here with us. The course was excellent, as usual, and the participants were very satisfied with what they learned. This remote modality could certainly represent an important opportunity for the future."


https://en.isico.it/wp-content/uploads/2020/04/PHOTO-2020-04-06-12-16-51.jpeg
499
873
Utenza Editor
http://en2019.isico.it/wp-content/uploads/2019/11/logo-300x91.png
Utenza Editor
2020-04-15 19:15:25
2020-04-22 15:39:59
Seas: how it evolves to move forward