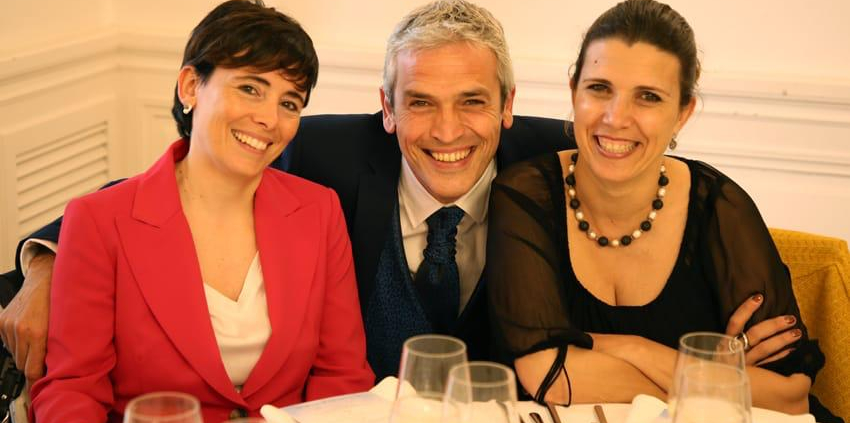 We asked physiatrist Dr Sabrina Donzelli, one of our doctors at ISICO, to tell us about the highlights and significance of SOSORT, the international conference held at the start of May in San Sabastian.
We knew that the event would be an important occasion for the specialists in attendance, as they had not been able to meet in person for two years. Little did we imagine, though, when we approached Dr Donzelli, that we were asking the very person who, in the course of the event, would be named as the next President of SOSORT. The presidency of this association is a highly prestigious role. This is the fourth time an ISICO member has been chosen for the position, and Dr Donzelli is the first woman to have the honour.
We therefore begin this interview by extending our congratulations to Dr Donzelli.
1) Wow! Well, this was great news on two levels: first, because the position will once again be held by an ISICO member, and second, because this is the first time a woman has been chosen. The International Society has grown considerably over the years and now has a large membership with a good balance of men and women, even though this is not so true of the single professions. There aren't many doctors in SOSORT; most of its members are physiotherapists. If you aspire to be President of SOSORT, you have to serve the organisation, putting in years of voluntary work. For some years now, I have been committed to doing all I can for SOSORT because I share its vision and its mission: to ensure that patients with scoliosis always receive the best treatment based on the scientific evidence. It is therefore important to be committed to research and to spreading knowledge. In other words, the mission is also to educate. My commitment and willingness have helped me become widely appreciated within the society, allowing me to join the executive board in 2019, and to be made President Elect this year. 
2) What did it mean, after three years, to finally be meeting in person, with colleagues all in one place rather than scattered around the world?
SOSORT, which dates back to as long ago as 2004, was created to bring together the world's leading experts in the field of rehabilitation treatment for spinal disorders, to allow them to "compare notes" and increase the level of scientific evidence in the field, as well as improve the treatments available to patients. Over time, its missions and aims have been and continue to be updated, because medicine is a constantly evolving science. The last proper congress was held in San Francisco in 2019, after which the event moved online for a couple of years. It was therefore fantastic finally being able to get together in person again. We were able to talk face to face and really share, all together, our passion for what we do and our everyday challenges. All this is reflected in the slogan that was used to announce and promote the event: SOSORT 2022 – More than a congress: an experience in San Sebastian. You will never forget it! 
3) What are the main scientific developments you were able to take away with you? 
Epigenetics appears to be the future when it comes to improving understanding of scoliosis and trying to identify individuals at risk of developing it. Obviously, there is still a huge amount of work to be done, but at present this seems to be the way to go.
Second, ultrasound is the future of radiation-free diagnostics, albeit perhaps not so much when applied to the spine as when used to estimate residual growth. In this regard, I should mention an interesting study by  Sanders based on ultrasound of the hand, Bracing outcomes in end-of-growth patients. Evidence to support the use of braces even towards the end of growth: it's not too late to wear a brace.
Indeed, other studies similar to ours have shown that good results can be obtained even at the end of growth. There is also promising scientific evidence in patients who have finished growing: we at ISICO were the first to present these findings, and now other groups, too, are showing that good results are possible even in individuals with advanced bone growth. 
It is worth considering that three of the six studies in the running for the SOSORT Award dealt with outcome prediction: they ranged from Dr Lori Dolan's study with 10-year follow up after the end of bracing treatment to our research conducted in collaboration Dr Eric Parent of the University of Alberta, in Canada, in which we attempted, in patients observed over time, to predict future curves solely on the basis of X-rays performed before they started treatment with braces or exercises. 
4) SOSORT Award: were there any surprises?
Not at all. The winning study was the strongest methodologically. The paper, on which we collaborated with the University of Alberta, illustrated a prediction model developed on the whole sample: it has some limits related to the heterogeneity of the data, which reflects that of scoliosis itself. Each patient has their own clinical history and this makes it difficult to predict how the disease will evolve in relation to age, time since onset, and residual bone growth estimated using the Risser classification. 
The Bracing in Adolescent Idiopathic Scoliosis Trial (BrAIST), on the other hand, is a fundamentally important study: it has demonstrated the therapeutic effectiveness of braces and shown that follow up over time is essential in order to advance the study of scoliosis. The monitoring of the patients observed and treated by these researchers will continue to give us important information, while the methodological rigour of their study is a guarantee of very reliable scientific evidence.  
Pictured, Sabrina Donzelli, together with organiser (SOSORT 2022 local host) Garikoitz Aristegui, and Judith Sanchez Raya, co-Chair of the SOSORT 2022 Scientific Committee
https://en.isico.it/wp-content/uploads/2022/05/IMG-20220507-WA0034.jpg
550
850
Utenza Editor
http://en2019.isico.it/wp-content/uploads/2019/11/logo-300x91.png
Utenza Editor
2022-05-18 15:24:04
2022-05-18 15:24:05
SOSORT 2022: a feedback by dr Sabrina Donzelli, the next president of SOSORT