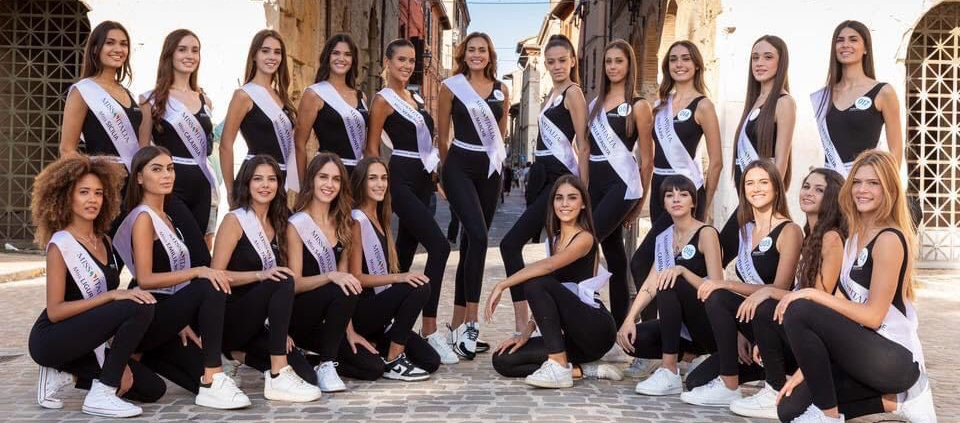 We present two young women who hope to be chosen in the next Miss Italia contest finals as "the fairest of them all". Lavinia and Cecilia, as well as being beautiful girls who have reached the final of Miss Italia, also have another thing in common: both have had to overcome many hurdles from a very young age, when they were diagnosed with curvature of the spine at our centre and had to embark on a lengthy course of bracing treatment. Looking at their smiling faces today, it is hard to imagine the struggle of those long years spent "braced up" and the determination they had to show in order to get where they are now. 
We spoke to both girls just after they won their place in the final. We were keen to know how Miss Lazio (Lavinia) and Miss Umbria (Cecilia) felt.
Cecilia, 22, wore a brace for nine years, while Lavinia, 18, is still undergoing treatment that began five years ago when she was diagnosed with a 53° scoliosis curve. This has since been reduced to 35°. 
For both of them, their treatment, from the outset, involved wearing a brace for most of the day: "I had just turned 12 when it all began" Cecilia recalls. "I found it really hard to accept that I would have to spend years encased in plastic. Daily life was a real struggle and I well remember how upset I got every day, because I felt so awkward and stiff inside that kind of case. I remember the tight belts and the sound of the Velcro being pulled open when I took the brace off. I remember the sore patches and how anxious I was that I wouldn't be loved or accepted in my new "shell" and wouldn't receive all the attention, affection and hugs I had before. And yet, if it weren't for my brace and all the self-correction exercises I did, I wouldn't be the girl I am today".
As for Lavinia, she turned to us in the hope of being able to avoid surgery for her scoliosis: "Of all the spine centres I consulted, Isico was the only one willing to try bracing treatment, despite the severity of my curve. I have to admit that those were difficult years for me, but I never stopped doing the things I love, like dancing, singing and going out with friends. Thanks to Isico and also to my own determination, I have made a considerable improvement. My curve has been reduced by almost 20°, and even though I don't have a perfectly straight back, I have learned to love and accept my body the way it is."
Both girls firmly believe nothing can stop you from doing what you want and dream of doing. Obviously, you have to show loads of determination and perseverance, the two qualities that have enabled them to win places in the final of Miss Italia and, above all, get through years of treatment, during which they learned to treat their brace as that "friend" you love to hate, who has been by their side throughout their journey and helped them to become stronger people. "There will always be times when you don't like yourself, with or without your brace, and if you happen to come across someone who doesn't accept you because of it, you need to remember that it certainly isn't your fault" Lavinia goes on. "This competition has shown me beyond doubt that my back hasn't affected my appearance, and that it has actually made me more self-confident!".
Because, in the end, a brace is also an ally. Both girls stress that "if you are patient, you will get results" and that a limitation, in this case in the form of a tricky condition like scoliosis, can turn out to be an unexpected opportunity: "We must all learn to love ourselves, have the courage to rise to the challenge, and fight prejudice without letting go of our dreams" Cecilia says. "I would like to be a voice encouraging acceptance of our limitations, because in an inclusive world we need to show ourselves the way we are and draw attention to the sacrifices that have made us strong. It is like we are all on a river in full flow and our brace is the boat that can help us make it to the open sea, where new lands and new horizons are just waiting to be explored".
This isn't the first time we have had Miss Italia finalists; it is simply the first time we have had two together. "And it won't be the last!" says Prof. Stefano Negrini, scientific director of Isico. "I am starting to wonder whether this phenomenon might be linked to the determination that people who face the difficulties in life manage to acquire in part thanks to the help of those around them. The effort you have to put in with a brace is a major investment in your future that gives fantastic results, also in an aesthetic sense. Could it perhaps be that these girls are keen for the world to see how they are not only because of the beauty Mother Nature has given them, but also because it represents the fruit of years of sacrifice and hard work? I'm not sure if we'll ever get the answer to this question, but I like to think that there is something in this — that we are able to give our patients not just healthy and attractive backs, but also all the strength, pride and determination they need to fight for their goals. All hugely important values in life. So, well done Cecilia and Lavinia. Whatever the result of the competition, you are already winners!".
https://en.isico.it/wp-content/uploads/2022/10/miss.jpeg
640
960
Utenza Editor
http://en2019.isico.it/wp-content/uploads/2019/11/logo-300x91.png
Utenza Editor
2022-10-13 15:45:02
2022-10-26 11:33:42
Two Isico patients among the final selection for Miss Italia