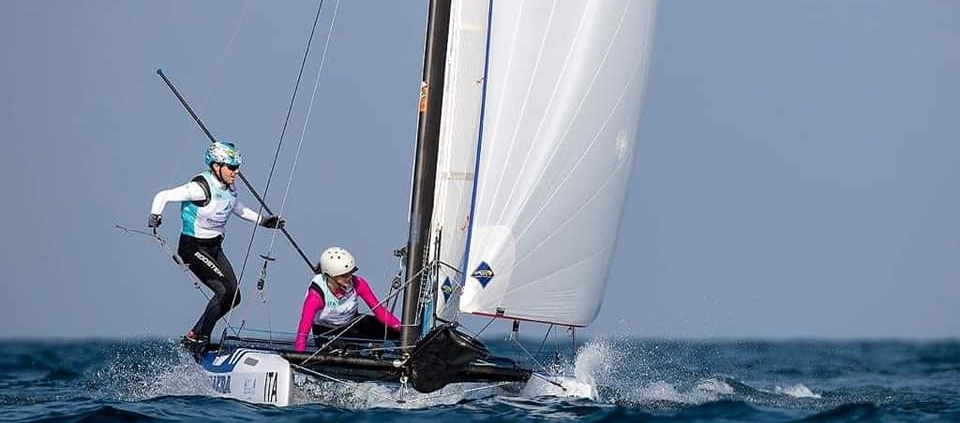 Mario and Giorgio, 18, are twin boys who have always shared countless passions. They were born and grew up in the Dolomites, close to Lake Garda, and naturally grew to love the range of adventurous activities offered by this spectacular part of the world.
They spend their free time rock climbing or careering madly along paths on their mountain bikes. But their number 1 thrill is whizzing like torpedoes across Lake Garda, skimming its surface with the wind blowing off the lake in their sails.
Both boys had loved sailing ever since they were children. They were, in fact, already junior champions when they received the unwelcome news that they both had severe scoliosis, which was preventing their spines from developing normally.
In both cases, the curve was so marked that there was no alternative: the medical prescription was to wear the brace full time for the first year of treatment, meaning 24 hours a day.
It was immediately apparent that, with a brace on, one particular sailing action would be impossible: during rapid turns, the boys would not be able to squeeze along the bottom of the boat to pass under the boom.  
However, with the help of their trainer and the support of their sailing club, they found a solution: the boys were given a new boat to use together, one in which, due to its particular structure, the boom was positioned higher. 
Although, for this reason, the boys had to switch to a new category, they could continue training and competing successfully.
By the second year of the treatment, Mario and Giorgio were already permitted to leave their braces off for part of the day, long enough to start training and competing unbraced, thus entering other categories compete with other crews as well. 
In 2021, Giorgio and his racing partner Isotta were invited to be part of the Italian national team competing in the Youth World Cup in Oman. There, he attained an excellent eighth place and this, together with a third-place medal in the team event, more than made up for all the sacrifices he has had to make. Although Giorgio was brace-free when competing in Oman, both boys still have to brace up at night. As for us, we are proud to think that one of our Sforzesco braces has been worn not only during Giorgio's free time and travels but also (when he was not competing) under his Italy kit!
Well done, lads, keep on chasing that dream: you never know, one day we might see you aboard the Luna Rossa winning the America's Cup for Italy!
https://en.isico.it/wp-content/uploads/2022/01/269279572_463526042011808_3652047149230297528_n.jpg
640
960
Utenza Editor
http://en2019.isico.it/wp-content/uploads/2019/11/logo-300x91.png
Utenza Editor
2022-01-20 16:36:01
2022-01-21 10:09:43
Twins with the wind in their sails