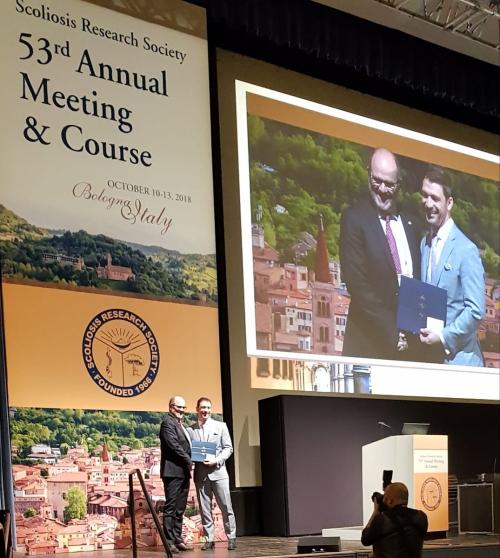 The SRS congress that took place in Bologna at the beginning of October has seen Isico at the forefront, primarily with the awarding of the prestigious John H. Moe award to Prof. Stefano Negrini, Isico's scientific director, for the best research poster titled Paravertebral muscles show double-cross activation but also in single AIS curves, with a corresponding oxygen consumption: an electromyography and a near-infrared spectroscopic study, realized in collaboration with the University of Brescia and the Don Carlo Gnocchi Foundation.
A remarkable recognition for those involved in conservative treatment within a congress composed for the most part by surgeons.
"There is a growing interest in conservative treatment – explains prof. Stefano Negrini. Also Dr. Sabrina Donzelli has been invited to be part of the committee dedicated to conservative treatment which I am part of since three years. We were pleased by the intention of the SRS to support studies that compare different braces. The congress allowed us to meet researchers and representatives of important research institutes with whom we laid the foundations for future collaborations. In Isico, thanks to constant data collection through clinical software, we have a very large database of patients eligible for different possible studies with important research institutes ".
During the congress several interesting studies were presented: from those on the use of lateral flexion radiographs to those on new methods for estimating residual growth using different evaluation methods that also include humeral cartilage, so as to understand how to better estimate the period of the highest evolutionary risk.
Finally, Dr. Sabrina Donzelli, physician of Isico presented the study Brace Wearing Time is the Strongest Predictor of Final Results: A Regression Model in 1457 High Risk Consecutive Adolescents with Idiopathic Scoliosis: "We evaluated a large number of patients treated with braces and we verified that the number of wearing hours is the primary predictive factor of the final result of the therapy – comments Dr. Donzelli ".
https://en.isico.it/wp-content/uploads/2019/10/srs2-big.jpg
558
500
Paolo Castellaneta
http://en2019.isico.it/wp-content/uploads/2019/11/logo-300x91.png
Paolo Castellaneta
2019-01-01 15:45:23
2019-10-22 15:45:37
Prof. Negrini awarded at the SRS congress