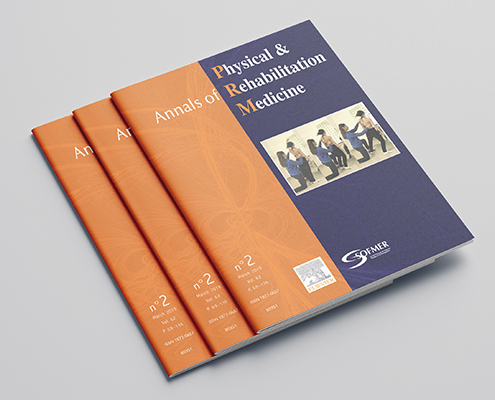 The cover of the March issue of Annals of Physical and Rehabilitation Medicine is devoted to the Isico study entitled Specific exercises reduce the need for bracing in adolescents with idiopathic scoliosis: A practical clinical trial. "
To be featured on the front cover of an international journal is a first for us, and a source of great satisfaction as it underlines, in a very immediate way, the scientific value of the study we published a few months ago" remarks Prof. Stefano Negrini, scientific director of Isico.
"Indeed, the fact that one of the world's three most prestigious and important journals in the field of rehabilitation should have chosen a study by us to grace its cover has the effect of turning the spotlight on a disease — scoliosis — that generally tends to attract less attention than other conditions".
Briefly, the study in question is the largest on this topic conducted to date, given that the case series numbers 327 patients observed over more than a decade's work. It is a crucial study, given that few others in the field of spinal diseases have verified the factors capable of reducing the risk of scoliosis worsening.
On the one hand, it demonstrates the effectiveness of doing specific exercises compared with doing nothing, and on the other it shows that those whose treatment consists of a therapeutic plan of the kind we have developed at Isico will have better results than those who do normal exercises in the gym a couple of times a week.
Furthermore, the study shows that those who adhere to the therapy continuously, without interruptions right through to the end, are rewarded with clearly better results.
https://en.isico.it/wp-content/uploads/2019/01/Annals-1.jpg
400
495
Paolo Castellaneta
http://en2019.isico.it/wp-content/uploads/2019/11/logo-300x91.png
Paolo Castellaneta
2019-01-01 17:00:15
2019-11-22 11:06:35
An Isico study on the cover of Annals